We are located on the first floor at the south end of Mt. Royal Station building. Walk through the Metal Shop. Please wear studio attire.
Servers are a great tool! As a shared storage drive, they are useful for accessing template files and example files. Additionally, \\picasso makes it easy to pass files to yourself or others from one computer to another, between the computer lab and laser cutter for example.
Our server can be accessed on any computer that is connected to our network, both Mac and Windows. This includes your personal laptop! Just log in with your MICA username and password. The server is only accessible when you are using MICA's wifi or from MICA computers.
Every class at MICA has server space allocated that only you and your class will have access to.
Are you new to Windows? Take a look at Georgetown University's site on Working with File Explorer in Windows!
Windows
Press ⊞ Win + R on the keyboard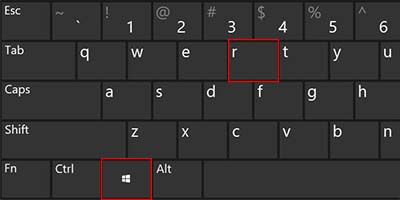 then type \\Picasso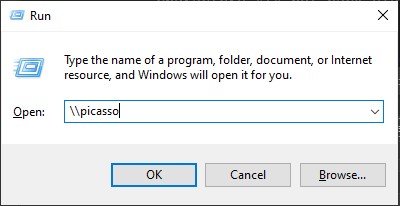 Note that we are using two back-slash characters "\" not forward-slash"/"
Mac
Open Finder then press ⌘ + K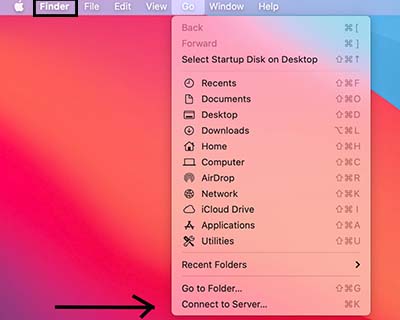 Then type smb://Picasso.mica.edu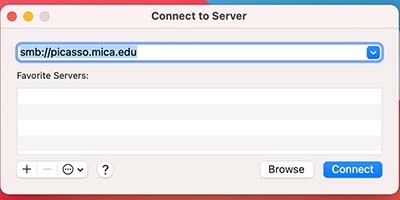 Note that we are not using back-slash characters "\" but forward-slash"/"
dFab Shared Folder
\\Picasso\Courses\_Student Resources\dFab\Shared
In the shared folder, files can be shared with anyone on campus. Don't use this folder for sensitive documents. This folder is not backed up and may be deleted at any time without notice. Lost files can not be restored. This location is for sharing copies, it is assumed that these are duplicates.
dFab Resources Folder
\\picasso.mica.edu\Courses\_Student Resources\dFab\Resources\
This folder is read-only. It contains examples, templates, manuals and other resources that streamline the systems we use in dFab.
Your Class Folder
\\picasso\Courses
Each class on camps has a shared folder. Only your instructor and classmates have access to this folder and only for the current semester. These folders are deleted at the end of each semester to make room for new folders on our servers. These folders are backed up during the semester by Technology and can be restored if they are tampered with. Immediately contact Information if you accidentally deleted something.
Rhino
This file contains the standard layers and colors we use for laser cutting and the cutting pen plotter. It is preloaded on the dFab computers in the "Template Files" folder
Set Your Default Template
When you open a new file from within Rhino ( _New or File > New) notice the check box "Use this file when Rhino starts" on the "Open Template File" window.

_OptionsImport
Using the command _OptionsImport in Rhino, you can load the interface I think are great for a beginner to have access to. Copy and paste the path below (from Windows) into the address bar after connecting to the server.
\\picasso\Courses\_Student Resources\dFab\Resources\Rhino\_OptionsImport
This includes _IH (_Invert _Hide) and adds clicking the middle mouse wheel to zoom to the selection among other things. You can always re-set to stock by loading the default settings from the same location on the server. If you don't know how to access the server, there's a section on this page that shows you how!
Resources to Help You Learn
Some effective learning strategies include
Reserve a few pages at the start or end of one of your sketch books for Rhino Vocabulary. Keep a running list of all commands or tricks that you learn. Record just the command as typed into the command line, and minimize any definitions or explanations.
Use F1 help! Seriously? F1 help you say? Yes. 100% Rhino actually has a fantastic help page that live updates to tell you how each command works. Type in any command and press F1 on the keyboard and you will be on the help page for that command. Additionally, there is a panel with auto updating help that can be used.
Be consistent and set realistic objectives. Practice every day and reward yourself for small achievements. You are also learning to think in a new way, and that is no easy task. It takes consistent practice, spend 15 min every day in Rhino for one semester, drawing things that are useful to your practice. You will be amazed at how quickly you progress!
Actually read the manual and do the exercises. Read it again and you will learn more. Use the manual as a reference when you get stuck. There is no way around putting the time in.
Here's a list of all commands grouped as they are introduced in the manual. For those of us who don't do well keeping a vocab list, and a good reference for teachers. The old manual was a PDF, dFab has a copy. Let us know if you want access to it.
Download the manuals and the models. Use the models to follow along with the manual.  You will need basic file management skills to use Rhino effectively. If you are not familiar with creating folders, copying, renaming or deleting files, stop now and take a look at Georgetown University's site on Working with File Explorer in Windows.
The Remote Production Service (RPS) is available to all students who have received an introduction through MICA Coursework. Student re-certification is not necessary each semester, so long as your files come in correctly;)
Use the dFab - Small Objects - Inches.3dm template file to prepare *.3dm files for laser cutting or the Graphtec submissions. See the Laser page for more information
Use PrusaSlicer to prepare *.3mf files for 3d printing submissions. Download "Drivers and Apps x.x.x" for your OS. See the 3d Printing page for more information.
Lasers
Read the manual along with class instruction, then take the test.
After taking the test, submit a file for laser cutting to the RPS system and check 'Certification - DO NOT PROCESS' under the 'Delivery Method' heading. You will process your own file under supervision of your instructor, completing the physical portion of the certification.
Upon successful completion, you are welcome to use our laser cutters during shop hours.
Cutting Plotter/Vinyl Cutter
Unless directed otherwise by your instructor, complete the laser cutter training before working with the cutting plotter. Read the manual along with class instruction, then take the test.
After taking the test, create a file to process under supervision of your instructor, completing the physical portion of the certification.
3d Printing
After class instruction, you are welcome to submit to the Remote Production Service. Students are responsible for determining appropriate build plate contact, orientation, and support materials (if needed) under the guidance of their instructor.
See the 3d printing page on this website for more information on download, setup, getting started and working with PrusaSlicer. All students with appropriate experience can submit *.3mf files to the RPS system.
Table Saw
The table saw is one of the most versatile and useful tools, it also happens to be one of the most dangerous. We have put together a really fantastic training program to ensure that our students are competent, confident and safe on this tool.
All student, staff, and faculty access to dFab's table saw is through the Fabrication Studios Table Saw Training Program. This consists of a 3 step process.
First complete the Table Saw Reading, and reach out via email to your studio manager to be added to the wait-list for a hands on training. These are scheduled in groups of 3 on Wednesday afternoons.
After completing the hands on training, take the Table Saw Written Test.
Upon successful completion of the comprehension test, the last step is a physical test with the studio manager.
Upon successful completion of the physical test, students are able to use the table saw in dFab during open shop hours.
CNC Machining - FANUC and HAAS
We have develop a comprehensive manual compiling years of experience and dozens of sources into one place. All answers to the questions on the certification tests 1 and 2 are found in the PDF manual. Level 3 has questions that would be answered by working with McKibbin at the machine.
Complete this prior to using the CNC while enrolled in coursework that covers this content.
Students who want to work with the CNC in the semesters following the course in which they were trained must pass this level 2 test.
All instructors must achieve Level 3 prior to proposing coursework that teaches CNC in dFab. Students who achieve Level 3 may run the CNC when McKibbin is not in the building.
You must be logged in to a web browser with an @mica.edu account to see the names below.
Lasers
Graphtec
CNC
Table Saw
Making your work!
Faculty making their own work in the shop can really build on the student experience. Please keep in mind that faculty or staff use must not impede on student work. Coordinate with the Studio Manager on projects that are larger than one day. Faculty should read our equipment manuals and take our comprehension tests prior to coming to dFab.
Laser Cutters or 3d printing with your class
Are you interested in using the laser cutters or 3d printer with an assignment in your coursework? We have an established system for your students to submit files to be processed on our laser cutters and 3d printers through the Remote Production Service (RPS).
Prior to engaging through RPS with your students, Faculty must review the submission process and engage with the Remote Production Service themselves. Please note in your first submission that you are faculty and need to schedule a "skills checkoff." After a successful skills checkoff, you may introduce RPS to your students.
Coursework engagement with the Remote Production Service can be requested until the second week of each semester.
dFab Coursework
Prior to proposing any coursework to be hosted in dFab, Faculty must read any relevant manuals, complete any comprehension tests and schedule a time to check off with Ryan McKibbin on all equipment that they want to cover with their class.
Submit something to the Remote Production Service as a first step in the on-boarding process. Learn some Rhino first, then use the laser cutters, then the cutting plotter (Graphtec)... then CNC. The main hangup with 3d printing is 3d modeling, let that happen whenever it's appropriate.
After you have checked off on the equipment you would like to use with the studio manager, reach out to your Department Chair to coordinate the planning and scheduling with Fabrication Studios before requesting class use of dFab with the registrar. This is arranged prior to the course schedule, sometime mid semester BEFORE the current semester. Faculty must have the experience needed not to rely on Studcents, TAs or Research Techs to cover this equipment in their coursework.
Students with prior experience on this equipment should read our machine manuals and take our comprehension tests for the tool you would like to use prior to coming to dFab.
You are welcome to use the computer lab and become acquainted with the space while you are going through our manuals.
The class schedule for the computer lab is posted on the main page of this site. It's usually OK to come in and work at an available computer during class time. Please be respectful of the class, if things look too busy they probably are ;)
Misc Supplies
Master Carr -- All things mechanical. Great service, easy and expensive
Harbor Freight -- Super duper cheep tools.
Waverly Ace Hardware -- Best local hardware store, worth the drive.
Belle Hardware -- Hardware store, carries acrylic sheets
McFeelys Hardware -- All things screwed. Good quality screws for any application

Jo-Ann Fabric -- Crafts store
Michaels -- Crafts store

House of Foam -- Foam of any kind
The Loading Dock -- Non-Profit Building Materials Re-Use Center

CME Tools -- Inexpensive quality CNC tools

Lasers
Dick Blick-- Carries chipboard. Most plastic sheet cannot be used on our lasers
Plaza -- Carries chipboard. Most plastic sheet cannot be used on our lasers

Canal Plastics -- Inexpensive small quantities of acrylic
Total Plastics -- plastic sheet, must be 4'x8'
Piedmont Plastics -- plastic sheet, must be 4'x 8'
3d Models
Smithsonian 3d digitization - *.stl files of lots of stuff!
McMaster Carr - Many products can be downloaded as a *.STEP or *.SLDPRT by looking at the Product Detail page
3d Printing
We generally use Silk PLA, also called PLA+ or PLA Plus or PLA Pro, usually looking for the $30/kg deals
MicroCenter -- Big Box Electronics and computers store (thumb drives to 3d printers)
UltiMachine -- Printer materials (we only support 1.75mm PLA)
Inventables -- Acrylic sheet in any color at reasonable prices

Wood
Harbor Sales -- Sign making materials, will make cuts
R. Thomas Frock -- Rough sawn wood. You must have taken a wood class in Fox to use this.
Traditional Woodworker -- Good hand tools

Chesapeake Plywood -- $500 minimum for pickup, huge local selection of sheet goods
A and M Supply -- Huge selection of building supplies and interior grade plywoods
Marjam Supply -- Building Supplies, no fancy plywood, just construction supplies

Steel
DS Pipe and Steel -- no order too small, delivers to MICA weekly.
Casting/Mold Making
Smooth-on - Reynolds Advanced Materials is our local distibutor for all things Smooth-on

Here's a list of the Software available on the dFab computers
Computer Posture
Working With Solid Wood
Finishing
Machining
Rhino
Electronics
Tooling