Studio Manager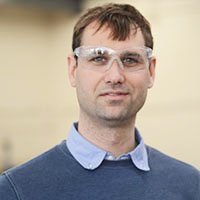 Ryan McKibbin
Ryan is an Instructor at Rhinehart School of Sculpture and the Digital Fabrication Studios Manager at MICA until 2022. Ryan came to MICA in 2014 where he designed and oversaw the renovation of the Mt. Royal Train Station into the Digital Fabrication Studio in 2015.
Before MICA, Ryan has held appointments with Catholic University of America in the Department of Architecture. While at CUArch, Ryan served as Faculty Advisor for Fabrication of Team Capitol DC's Harvest Home entry for the Solar Decathlon.
www.731sculpture.com
www.ryanmckibbin.com
Studio Technician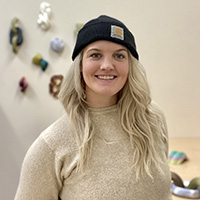 Monica Immel
Monica started studying interdisciplinary object design in 2010 at Towson University acquiring skills in traditional fabrication techniques and developing her focus in computer aid design and advanced manufacturing. During her studies she focused on juxtaposing organic imagery and materials  into digitally fabricated forms utilizing 3D printing and laser cutting as her main mediums. The main narratives in her work lie in the plight of humankind's pursuit of beauty through harmonizing natural & synthetic elements.

Monica believes that through open source sharing and additive manufacturing society has the capability to spread fine art and design into and out of places systemically limited by its assets. Her goal is to see these innovative technologies impact the utilitarian aspect of contemporary art in places that have been under-resourced and ignored.
Student Techs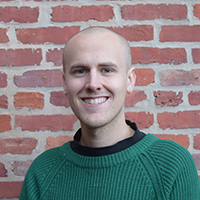 Marty Koelsch - Rienhart Sculpture
Marty Koelsch is a multi-disciplinary artist and designer. They are a graduate student in the Rinehart School of Sculpture and have a bachelor's degree in landscape architecture from The Ohio State University. Prior to MICA, Marty was an installation foreman at Greenscapes Landscape Company in Columbus, Ohio and a design intern at Spackman Mossop Michaels in New Orleans, Louisiana.
Marty's art practice analyzes the ability of plants and materials to manipulate ecosystems, form, and space. Marty explores the roles of nonhuman objects in their surrounding environment and how they behave outside of human consciousness.
www.martykoelsch.com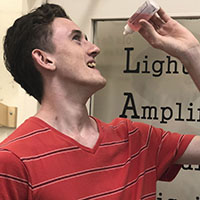 Joshua Frick - Interdisciplinary Sculpture
Josh Frick is a senior in the Interdisciplinary Sculpture program who concentrates his studio practice in digital fabrication. He pushes machines to their limits, redefines their utility, and uses coding to ask questions about the nature of patterns and randomness in our universe.